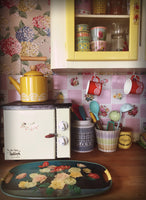 About The Dolly Tub
My name is Suzanne Orford. I run a small company nestled in the Slieve Aughty mountains of County Galway, Ireland.
I live in our little 300 year old pink cottage (painted pink by husband as a surprise when we had our girl!) Having worked as a textile designer for 3 years in the Liverpool my husband and I moved to our rural life in a whirl wind.
I was need of a change. It was either going to be soap or jam.
Read More
What our customers say
Dolly Tub Sanitiser has saved my little hands from the elements. This product is amazing...cleans, moisturises and smell amazing.... the whole family are hooked... fabulous glass bottle packaging makes it all the prettier!!! My new favourite product

Niamh O'Donovan
I adore my Dolly Tub tiles. I purchased them for my bathroom and kitchen and love how they look. I get loads of great comments from visitors too. Thank you Suzanne ❤️

Rachel Allkin, Loughrea
I first met Suzanne in the Galway Market and bought the most fabulous vintage teacup candles. Everyone who received a teacup as a gift loved them. Since then I have bought The Dolly Tub soaps and balms and would highly recommend them.

Debbie Cheevers, Dublin
Visit Our Instagram
Creating handmade loveliness in a pretty cottage on the Wild West of Ireland. From floral tiles to goats milk soap. See what our life is all about.